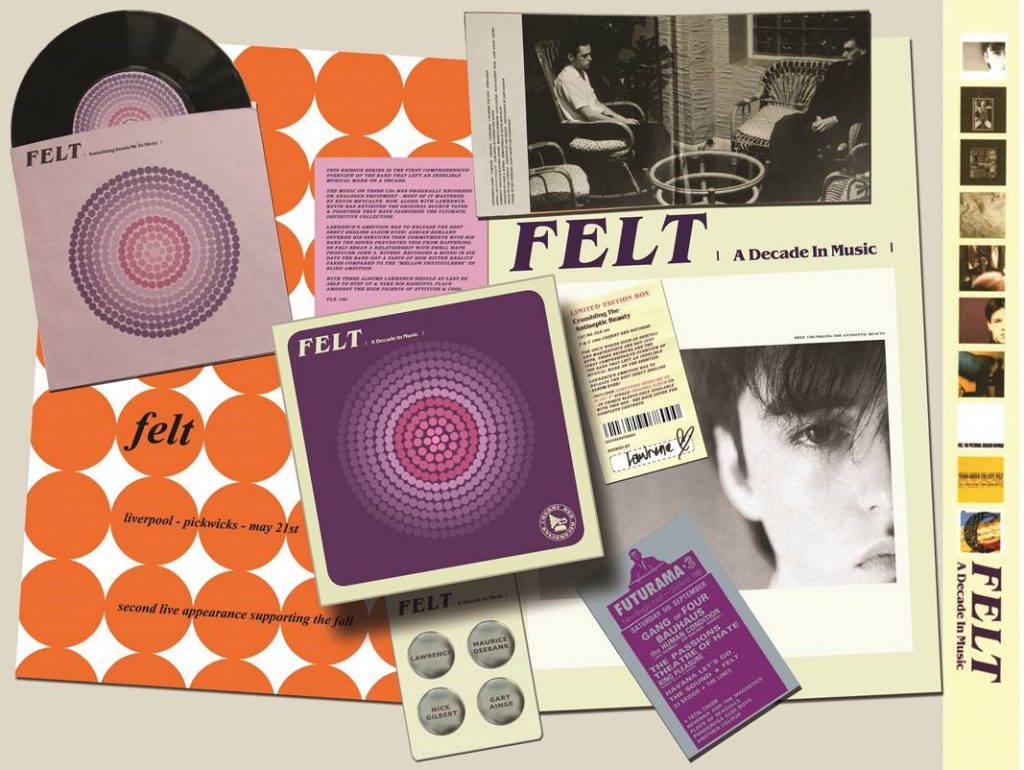 En février 2018 le label Cherry Red va lancer une belle campagne de réédition. L'objet de leur attention se portera sur la formation de Birmingham, Felt. Mythique et incontournable durant la décennie 80-90, ses fondateurs – l'esthète Lawrence Hayward (très vite rebaptisé Lawrence) au timbre de voix calé entre Lou Reed et Lloyd Cole et le guitariste Maurice Deebank (présent jusqu'en 1986) –  vont lancer en 1979 un concept : 10 albums et 10 singles tout ça en 10 ans. Le pari fût tenu, mais plus important, la musique fût de qualité : minérale et aérienne elle s'est construite sur des ambiances tantôt éthérées avec de magnifiques parties de guitares cristallines ou bien sur des séquences plus tendue. Les musiciens aligneront également de nombreux titres instrumentaux. Des cadors croiseront leurs chemins : Elisabeth Frazer, Martin Duffy ou John Leckie par exemple. Cherry Red puis Creation Records (à partir de 1986) seront leurs labels respectifs.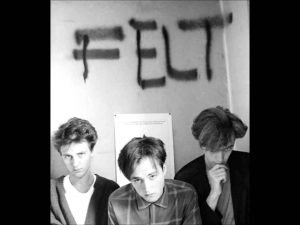 Une première salve a été supervisée et remastérisée par Lawrence et Kevin Metcalfe : soit les cinq premiers albums sortis entre 1982 et 1986 : Crumbling The Antiseptic Beauty (1982), The Splendour Of Fear (1984), The Strange Idols Pattern And Other Short Stories (1984), Ignite The Seven Cannons (1985) et Let The Snakes Crinkle Their Heads To Death (1986) – rebaptisé selon le souhait de Lawrence – comme il aurait dû l'être à l'origine – The Seventeenth Century. Deux options possibles à l'achat : le vinyl, dorénavant incontournable et c'est tant mieux, et le cd, en version box avec adjonction des singles respectifs de l'époque et quelques mémorabilias divers.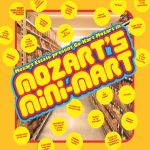 Cerise sur le gâteau et concomitant à ces rééditions, Lawrence poursuit l'aventure avec son Go-Kart Mozart et la sortie de son 4ème album Mozart's Mini-Mart. L'ambiance est tout autre – plus punchy synthétique et festive. Un concept qui a fait suite il faut le rappeler à son défunt projet fantasque et 'glam' de Denim du début des années 80.
Détails des festivités :
Crumbling The Antiseptic Beauty
Tracklisting
Evergreen Dazed
Fortune
Birdmen
Cathedral
I Worship The Sun
Templeroy
CD Box Single
Something Sends Me To Sleep / Something Sends Me To Sleep
The Splendour Of Fear
Tracklisting
Red Indians
The World Is As Soft As Lace
The Optimist And The Poet
Mexican Bandits
The Stagnant Pool
A Preacher In New England
CD Box Single
Trails Of Colour Dissolve / My Face Is On Fire
The Strange Idols Pattern And Other Short Stories
Tracklisting
Roman Litter
Sempiternal Darkness
Spanish House
Imprint
Sunlight Bathed The Golden Glow
Vasco Da Gama
Crucifix Heaven
Dismantled King Is Off The Throne
Crystal Ball
Whirlpool Vision Of Shame
CD Box Single
Penelope Tree / A Preacher In New England
Ignite The Seven Cannons
Tracklisting
My Darkest Light Will Shine (remixed)
The Day The Rain Came Down (remixed)
Scarlet Servants (remixed)
I Don't Know Which Way To Turn (remixed)
Primitive Painters
Textile Ranch
Black Ship In The Harbour (remixed)
Elegance In D
Caspian See (remixed)
Southern State Tapestry
CD Box Single
Mexican Bandits / The World Is As Soft As Lace
The Seventeenth Century
Tracklisting
Song For William S. Harvey
Ancient City Where I Lived
Seventeenth Century
The Palace
Indian Scriptures
The Nazca Plain
Jewel Sky
Viking Dress
Voyage To Illumination
Sapphire Mansions
CD Box Single
Sunlight Bathed The Golden Glow / Sunlight Strings
https://www.cherryred.co.uk/felt-decade-music-first-five-albums-will-released-23rd-february-2018/