Avec un second album phénoménal dans la droite lignée d'un Godspeed, Meanwhile Back In Communist Russia est incontestablement une des révélations « post rock » de l'année. Le quatuor d'Oxford a bien voulu se prêter au question/réponse par mail avec une gentilesse qui n'a d'égal que leur humour.

Avant tout, pouvez-vous nous expliquer la signification de votre nom?
Cela ne veut pas dire grand chose. Quelqu'un a dit cela par accident et ça s'est retrouvé inscrit sur la pochette de notre première cassette démo.
Comment expliqueriez-vous votre musique aux néophytes?
Qu'elle est pleine de choses contradictoires! Souvent, notre musique est puissante mais nous avons aussi des parties assez calmes de chants hésitants. Il y a beaucoup de guitares sauvages, mais c'est tout de même très électronique. Nous sommes davantage intéressés par l'effet que par le style et l'instrumentation, c'est pour quoi il y a beaucoup de variations dans notre musique qui ne peuvent pas être expliquées.
Le line up du groupe a beaucoup évolué depuis vos débuts, si bien que l'on s'y perd un peu. Qui joue dans le groupe actuellement?
Emily (voix, pochette), Tim (choses électroniques), James (choses électroniques, guitare), Ollie (basse, guitare). Nous recherchons actuellement des gens avec qui collaborer.
Avant de rentrer en studio, est-ce que vous aviez une idée spécifique de la direction musicale de ce nouvel album? Avez-vous finalement atteint le but de départ et êtes-vous satisfaits?
Nous pensions au départ qu'il y aurait plus d'éléments électroniques, c'est ce qui est arrivé. Au départ, nous avions en tête beaucoup d'idées différentes. Quelques-unes unes ont été utilisées, mais la majorité n'ont pas été retenues. Nous sommes satisfaits du résultat. Tout ce qui compte en terme de projet, c'est que chacun puisse placer une idée sans heurter les sensibilités des autres membres du groupe, pour que finalement la musique soit fidèles aux monologues et vice-versa. Cela s'est fait majoritairement à l'oreille, surtout en production.
Je pense que cet album est davantage organique que son prédécesseur. Etes-vous d'accord avec cette opinion?
Il parait, en effet. Les structures sont beaucoup plus fluides et les chansons vont dans la direction qu'elles choisissent. La façon dont les éléments électroniques sont utilisés et liés à la composition rend l'ensemble étrangement plus organique qu'électronique grace à l'atmosphère ainsi créée. Aussi, certains passages ne correspondent pas toujours à la direction de l'album.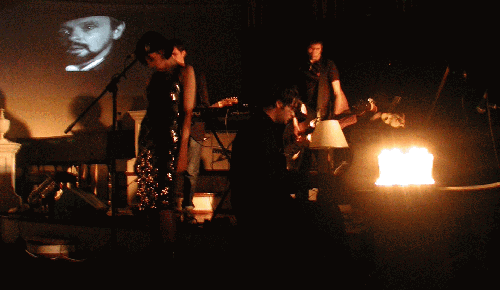 Si vous n'étiez pas musicien, que feriez-vous?
Emily serait certainement une artiste paumé cloîtré dans sa chambre. Tim serait un musicien/hippie/fan de football frustré. James aurait enchainé des boulots vides de sens mais bien payés, et Ollie travaillerait sûrement comme attachée de presse. En gros, la même chose que ce que l'on fait en ce moment…
Maintenant, des questions sur vos gouts.
Quels sont vos livres et films favoris :
Bouquins favoris :
-« The Private Memoirs and Confessions of a Justified Sinner » par James Hogg;
-« Giovanni's Room » par James Baldwin
-« Henry and June » par Anais Nin
-« Foucault's Pendulum » d'Umberto Eco
-« Catch-22 » de Joseph Heller
Les films:
-« My Life and Times with Antonin Artaud »
-« Under the Skin »
-The « Godfather » trilogy
-N'importe quoi avec des animaux qui parlent…
Qu'écoutez-vous actuellement?
Debussy: « Suite Bergamasque » et « Arabesque » I & II
Emily and Tim écoutent beaucoup « Bright Eyes » (Conor Oberst) en ce moment, ainsi que beaucoup de concerts 'Nought'
Un disque criminellement sous estimé :
« Nevermind » de Nirvana (?!)
Le genre de musique que vous détestez :
Annie Lennox, Bee Gees, Jamiroquai… Toutes les choses qu'écoute le mec qui habite en-dessous de l'appartement d'Emily.
Qu'aimeriez-vous que les gens retiennent de votre musique quand vous ne serez plus là?
Leur reçu…
Votre Top 5 des meilleurs albums de tous les temps :
C'est une question impossible! Cela change tout le temps, mais quelques arrangements devraient inclure Sonic Youth, Radiohead, Velvet Underground, Bob Dylan, Arab Strap, Stuart Little 2 (soundtrackt), et
– Daydream Nation – Sonic Youth
– Dirty – SY
– Bringing It All Back Home – Bob Dylan
– The Velvet Underground and Nico
– Horses – Patti Smith
Pour en savoir plus, Lire notre chronique de My elixir, My poison
—-
English Version
—-
Fist of all, can you describe the origin of your band's name : Meanwhile Back in Communist Russia ?
It doesn't mean anything. Somebody said it by accident and it went on the front of our first demo tape.
How would you describe your music to neophytes?
It is full of contradictory things. Often it's loud but we have quite quiet halting vocals. There is lots of guitar distortion rawness but it's largely electronic. We are interested more in effect than in the style/instrumentation, so there's a lot of variation that can't be 'explained'.
It seems that the band's line up has changed many times since when you first started. Who is officially in the band at the moment?
Emily (vox, artwork), Tim (electronic things), James (electronic things,
guitar), Ollie (bass guitar, guitar).
We're looking for people to collaborate with.
Did you have a specific idea about how should sound the album before recording My elixir… in the truckstudio? And have you finally reached your goals? Are you satisfied?
We thought we'd have it more electronic, which did happen. We all brought a lot of different ideas to it at the outset. Some of these are still there, most aren't. We're happy with it. All that really matters in terms of a plan is that everybody gets some ideas on without their egos being hurt and that the music is sympathetic to the monologues and vice versa. This took a fair amount of playing it by ear, especially in production.
In my opinion, this album sounds more « organic » than his predecessor. Would you agree with that ?
It seems so. The structures are a lot more fluid and songs will just go where they feel like. The way we used electronic sounds and layering in the compostition strangely make it feel more organic than 'electronic' because of the atmospheres those sounds create. Also, it doesn't really go at it full tilt all the way through the album.
If you weren't musicians, what would you do?
Emily would be a failing artist in a bedsit. Tim would be a frustrated musician/hippie/football fan, James would drift between meaningless well paid jobs and Ollie would work in music PR. Just the same things that we do now, really.
And now, let's talk about your tastes. Could you name for us:
Your Favorite book(s) and movie(s) :
Favourite books:
– « The Private Memoirs and Confessions of a Justified Sinner » by James Hogg
– « Giovanni's Room » by James Baldwin
– « Henry and June » by Anais Nin
– « Foucault's Pendulum » by Umberto Eco
– « Catch-22 » by Joseph Heller.
Movies:
– « My Life and Times with Antonin Artaud »
– « Under the Skin »
– The « Godfather » trilogy
– Anything with talking animals in it…
What you are currently listening to :
Debussy: « Suite Bergamasque » and « Arabesque » I & II
Emily and Tim listen to a lot of « Bright Eyes » (Conor Oberst) at the moment. As many 'Nought' gigs as possible !!
A record that has been criminally underlooked :
« Nevermind » by Nirvana.
The kind of music that you hate :
Annie Lennox, Bee Gees, Jamiroquai, anything else played by « man downstairs » at Emily's flat.
What would you like people remember about your music when you'll be gone:
Their receipts…
Your top 5 favorite albums of all the time :
This is an impossible question! It changes all the time, but at any given point might include sonic youth, radiohead, velvet underground, bob dylan, arab strap, stuart little 2 (soundtrack), and
– Daydream Nation – Sonic Youth
– Dirty – SY
– Bringing It All Back Home – Bob Dylan
– The Velvet Underground and Nico
– Horses – Patti Smith
For more details, read the review of My elixir, My poison, available on Pinkushion