Le moindre battement de cils de l'ancien leader d'XTC Andy Partridge provoque en nous des palpitations. Aujourd'hui, l'honorable citoyen de Swindon a décidé de se faire un gros plaisir en reprenant deux formations britanniques particulièrement appréciées. On avait oublié que Partridge pouvait encore sortir quelque chose d'inédit. Pour les compositions totalement originales il faudra encore patienter. L'objet du jour est une sortie vinyle 4 titres (au format 10 inch) à la pochette colorée et typée où Partridge reprend en face A un single du Floyd "Apples And Oranges" de 1967 – le troisième du groupe – écrit par Syd Barrett et "Humanoid Boogie" extrait du second album de The Bonzo Dog Band sortie en 1968. Les deux titres seront chacun en version mono et stéréo.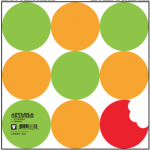 Partridge enfile donc ici à priori son costume de Sir John Johns (The Dukes Of Stratosphear) et met pour l'instant de côté sa face la plus expérimentale et instrumentale (Monstrance).
On pourrait anticiper et digresser sur le pourquoi et le comment de cette sortie mais on n'en rajoute pas plus, car à cette sympathique nouvelle s'en rajoute une moins bonne (sauf pour les 1396 futur heureux et sous peu bénéficiaires (le 28 juin 2018) qui ont déjà passé commande) : cette sortie est déjà épuisée ! Gloups ! Pour info donc mais quelle info.
https://burningshed.com/tag/10%20inch%20vinyl&filter_category_id=253