« Soon we all be back in the yard… » (Smog, « The river ») 
Après six années de silence, l'arrivée de la cinquantaine, un mariage et la paternité – sans compter l'ouverture d'un compte Twitter erratique ! -, le songwriter américain autrefois appelé Smog, Bill Callahan, annonce  son grand retour.  Le successeur de Dream River  (2013) est prévue pour le 14 juin chez Drag City, et s'intitule Shepherd in Sheepskin Vest. Il s'agirait d'un double album qui contiendrait une vingtaine de titres (tracklist ci-dessous), dominés par un sentiment de plénitude. Bill Callahan présentera son album à La Cigale le 5 octobre 2019 pour une seule et unique date en France.
Ci-dessous la belle pochette et une vidéo qui nous tease le pressage du vinyle. Hâte !!!!
UPDATE 23 MAI : et déjà 6 morceaux en écoute !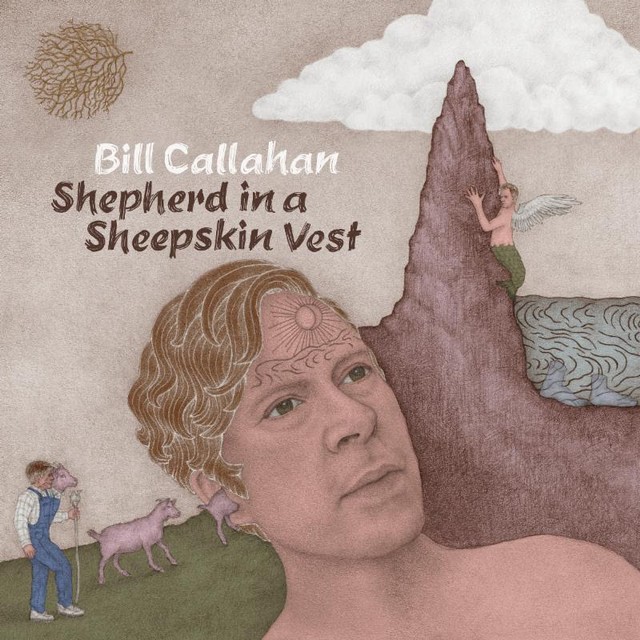 TRACKLIST:
1 "Shepherd's Welcome"
2 "Black Dog On The Beach"
3 "Angela"
4 "The Ballad Of The Hulk"
5 "Writing"
6 "Morning Is My Godmother"
7 "747"
8 "Watch Me Get Married"
9 "Young Icarus"
10 "Released"
11 "What Comes After Certainty"
12 "Confederate Jasmine"
13 "Call Me Anything"
14 "Son Of The Sea"
15 "Camels"
16 "Circles"
17 "When We Let Go"
18 "Lonesome Valley"
19 "Tugboats And Tumbleweeds"
20 "The Beast"
Shepherd In A Sheepskin Vest, sortie le 14/6 via Drag City. Pré-commande ici.