Tout juste un an après le trop court Harmless Melodies, Yellow Days revient et confirme ce que l'on espérait : ce premier album n'était qu'une mise en bouche.
---
C'est déjà l'heure de la confirmation pour George van den Broek : homme-orchestre originaire du sud de l'Angleterre, il avait surpris l'an passé avec son premier essai, Harmless Melodies, qui révélait un sens mélodique instinctif et des ballades suintant la soul de Détroit, enrobée dans des arrangements lo-fi charmeurs façon Mac DeMarco. Par-dessus tout, on y découvrait cette voix, organe que l'on jurerait patinée par les ans et cassée par la vie, alors que celui-ci n'était âgé que de… 17 ans.
Fort heureusement, Is Everything Ok In Your World ? ne s'est pas trop fait attendre, et dès l'introductive « Bag Of Dutch » on se retrouve dans cet univers désuet, tendance eighties, un chanteur soul blanc avec un esprit rock. Il en fait beaucoup, certes. Sa voix se tord et allonge certaines syllabes pour renforcer ses plaintes, mais c'est qu'à 17 ans, on a souvent la rage au corps,  et des problèmes de cœur obsédants. Nulle puérilité ici, simplement une voix de vieux bluesman buriné, associée aux sentiments d'un ado perdu.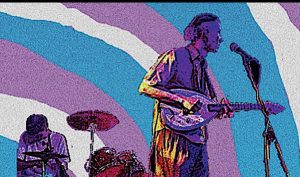 George traîne donc son spleen, tombe parfois dans le larmoyant, et se pose comme un vieux routier de l'amour (« it hurts because I need you so bad, The greatest love I ever had ») ; mais quiconque a été adolescent sait à quel point les premiers chagrins semblent définitifs. Il embarque ainsi l'auditeur dans un plaisir coupable, se délectant à redevenir si vulnérable sur « That Easy » (« Oh sometime I just want to run away »), avec le cerveau qui tourne en courant continue (« I've Been Thinking Too Hard », sur la chanson éponyme), jusqu'à l'épuisement. Histoire d'être vraiment dans l'époque, les discours d'un prof de Philo (Alan Watts) sont posés çà et là au fil de l'album, permettant ainsi de détourner sa pensée autant que de panser quelques plaies.
Au-delà de ce voyage en adolescence, Is Everything Ok in Your World ? est avant tout un recueil de mélodies impressionnant, et hétérogène. De « The Tree I Climb », traversée par un air de trompette apaisant, au flow lapidaire façon Tricky posé par le rappeur Irlandais Rejjie Snow  sur « Lately I », et passant évidemment par le magnifique et riche single « That Easy », ces 13 titres ne comportent aucun temps mort. Ils laissent penser que Yellow Days en avait encore beaucoup sous le pied au moment de sortir cet album. Si les chutes finissent bien par tomber, on y jettera volontiers une oreille.
Tracklisting:
A Bag Of Dutch
That Easy
The Tree I Climb
Holding On
I Believe In Love
Lately I
I've Been Thinking Too Hard
Tired
Hurt In Love
A Smiling Face
Nothing's Going To Keep Me Down
Weight Of The World
Outro (Lost In A World With You)